Team Rembrandts is het eerste Nederlandse robotica-team dat al vele jaren deelneemt aan de wereldwijde robotica wedstrijden FIRST.
De afkorting FIRST staat voor: For Inspiration and Recognition of Science and technology. Team Rembrandts is een robotica-team in Eindhoven met studenten van:
Technische Universiteit Eindhoven
Fontys Hogescholen in Eindhoven
Zwijsen College in Veghel
Heerbeeck College in Best
Deelnemende studenten
Het is dus een studenten team met daarin leerlingen en studenten van middelbare scholen, MBO-, HBO scholen en universiteit. In het team werken leerlingen en studenten samen met een groep ervaren mentoren en ouderejaars studenten aan robots om deel te kunnen nemen aan de wereldwijde FIRST Robotics Competition. Bovendien willen de studenten hiermee jongeren en kinderen enthousiast maken over STEAM (Science, Technology, Engineering, Arts & Math).
Ondersteuning bedrijfsleven
Dit is mogelijk met de hulp en ondersteuning vanuit het bedrijfsleven, waaronder MTA, AAE uit Helmond en vele andere bedrijven. Zie:
https://teamrembrandts.com/partners/ 
Ondersteuning Fontys Engineering
Namens Fontys Engineering zijn onderstaande medewerkers al vele jaren als coaches betrokken bij Team Rembrandts:
Ronald Scheer, docent Mechatronica
Bo van de Laak, Praktijk docent
Kees Heldens, medewerker planning & control
Fontys hogescholen is sterk vertegenwoordigd
Andere robotics teams van Fontys hogescholen die ook deelnemen aan FIRST zijn:
Force Fusion 6920
Team PI 6968
Samenwerking FTC Netherlands
Naast de FIRST Robotics Competition (FRC)  bestaat ook de FIRST Tech Challenge (FTC) voor jongere leerlingen. Veel leerlingen stromen door vanuit FTC naar FRC. Daarom hebben we dit seizoen de samenwerking met FTC Netherlands vergroot en hebben we een nationale 'hub' gemaakt voor FIRST Tech Challenge & FIRST Robotics Competition op Strijp-S in Eindhoven.
Samenwerking Fontys Centrum voor Ondernemerschap
Daarnaast zijn we de samenwerking aangegaan met Fontys Centrum voor Ondernemerschap (CV). Het Fontys CVO is direct naast ons gevestigd op de vijfde etage van Videolab op Strijp-S.
Nieuw adres Team Rembrandts per 1 januari 2020
Team Rembrandts 4481
Torenallee 20, (fifth floor)
5617 BC
Eindhoven
The Netherlands


Vind ik leuk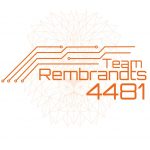 Rembrandts STEAM Foundation is a Dutch Non-Profit organization that started as the First native Dutch robotics team, also known as Team Rembrandts. Team Rembrandts, team 4481, is a robotics team located in Eindhoven with students from Fontys University of Applied Science, Zwijsen College and Heerbeeck College. HBO, WO, MBO and High school combined all together.