First Qualification match!
So our journey started of with a lot of travelling and only a little sleep, but we have slightly recovered and are completely ready and very excited for the qualification mathes that start tomorrow!!
Since we have told you we would keep you posted, here are some photos of our sightseeing and tourist activities around Los Angeles. For the complete story and our travelpaths please refer to our polarsteps page.
We post our daily photo's and exciting things we did on there so feel free to check it out. Also, our travel day video was posted to YouTube so feel free to check that out via the link below!
Once we awoke in the BLVD hotel and had a short team meeting, we set off to go do some sightseeing around LA. All the typical tourist places were visited. From Venice Beach to the walk of fame and of course Santa Monica pier.
After all this relaxation we are definitely ready!
If you want to follow our qualification matches live, please use either of the twitch links below or find us via the blue alliance website to see what matches we are playing!
Our social media are updated on an almost daily basis so if you want more information, or are just as curious as we are about all the other robots that we will be competing with and against tomorrow, check out our Facebook, LinkedIn, Instagram or Twitter!
All systems go, ready for take-off!!


Vind ik leuk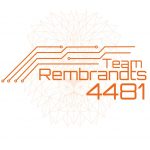 Rembrandts STEAM Foundation is a Dutch Non-Profit organization that started as the First native Dutch robotics team, also known as Team Rembrandts. Team Rembrandts, team 4481, is a robotics team located in Eindhoven with students from Fontys University of Applied Science, Zwijsen College and Heerbeeck College. HBO, WO, MBO and High school combined all together.