At the Eindhoven Maker Faire 2023, three student teams with Fontys Engineering students showcased their innovative projects, namely:
Team Pi,
Force Fusion, and
Team Rembrandts.
Voice Cloning technology
During the event, I utilized the opportunity to capture hours of video footage. Following a structured workflow, I crafted a compelling video using Voice Cloning technology. Here's how I did it:
Capture Footage: Recorded several hours of video content at the event.
Script Creation: Based on the captured footage, I drafted a script for the video.
Voice Cloning: Utilized Voice Cloning technology, using the script as input to generate a digital Voice-Over.
Audio Integration: Created an .mp3 file from the cloned voice and imported it into Adobe Premiere Pro.
Video Editing: Combined the video clips, selected appropriate shots, and integrated the cloned voice.
Enhancements: Added background music, subtitles, and Essential Graphics, including a Call to Action encouraging viewers to subscribe to my YouTube Channel.
Exporting: Produced the final video by exporting it as an .mp4 file from Premiere Pro.
Publishing: Uploaded the video to YouTube, along with a title, hashtags, and a description, and then hit the 'Publish' button.
Frequently Asked Questions:
Q: Does using AI for voice cloning save time?
A: Currently, it doesn't significantly save time due to the effort required in understanding and using the software effectively.
Q: What's the benefit of Voice Cloning then?
A: Voice Cloning has proven invaluable, especially in simplifying the video creation process. Speaking directly into the camera is time-consuming and often challenging. With Voice Cloning, I can bypass this hurdle during post-processing. I have successfully created voiceovers resembling my own voice, showcasing the potential of Voice Cloning technology for educators and students alike.
Are you ready to watch the video?


Vind ik leuk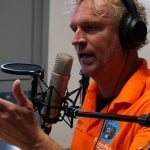 Ronald Scheer is an educator based at Fontys University of Applied Sciences in Eindhoven. Ronald is deeply engaged in the field of Engineering and is associated with the Robotics & Mechatronics professorship. In addition to his teaching role, he wears the hat of a skilled video and podcast creator within the professorship. Beyond the classroom, Ronald extends his expertise to assist fellow educators in crafting engaging learning materials for both online and classroom activities. His passion lies in enhancing the educational experience through multimedia content creation and innovative teaching methodologies.