Last week I was invited by some of my Mechatronics students in Eindhoven, to have a look at the robot that they created in cooperation with NOX robotics for their Mechatronics project in Semester 7. The students who invited me are:
Steven van Schalm,
Quirine Engbers,
Daan van Straalen,
Bink Jansen and
Joris Bertrams
Robot demonstration
After a short demonstration I was impressed by their achievements and I asked these Mechatronics students to write a small article about their project, because I believe that these students (and their achievements) deserve a large audience. Below you can read their story in their own words. Enjoy!
Semester 7 project (S7)
This year for our S7 project was de development and construction of a hardware base for an AGV for a small start-up company: NOX robotics.
Early prototypes
The project itself was carried out by first talking to NOX robotics and what they would like to see in the hardware for AGV that we would be developing. After this we looked into how to properly design and build it by using the knowledge and lessons learnt form earlier projects at Fontys and the earlier designed prototypes made by NOX robotics itself.
Specific mechanical parts of the AGV
After this we split our group into several small teams to continue to look into specific mechanical parts of the AGV namely the lift, the drive train and how to optimize the structure of the lift to be able to meet all requirements set.
Scissor lift driven by a linear actuator
For the lift we settled on the use of a scissor lift driven by a linear actuator to lower and raise the lift bed to be able to lift up to 300kg. For the drivetrain of the AGV we used a torsion bar suspension system to keep the drive wheels pressed to the ground. Lastly we needed to design the base which ties both of the subsystems together and provides a base where the electronics for the AGV can be mounted. The base design is designed to provide the maximum amount of space for all of the components of the AGV and offloads the weight on the AGV on the Caster wheels. In this way the drive wheels don't have to bear the weight of the lift and the cargo transported.
Final product
The final product of the project was the hardware for an AGV prototype which can be fitted the sensors and electronics that NOX robotics needs to make it operational.
Interested in the work of the students? Feel free to contact the students directly or send an email to me at r.scheer [at] fontys.nl.


Vind ik leuk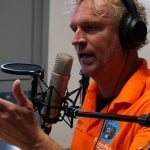 Ronald is parttime werkzaam als docent bij Fontys hogeschool voor Engineering in Eindhoven. Binnen Engineering is hij verbonden aan het lectoraat voor Robotica & Mechatronica. Vanuit het lectoraat is hij betrokken bij de minor Adaptive Robotics. Tevens is coach van het succesvolle studenten team 'Robohub Eindhoven'. Ronald is bovendien coach van studententeam 'Team Rembrandts 4481'. Dit team werd in 2019 wereldkampioen in de wereldwijde First Robotics Competitie. Bovendien is Ronald gespreksleider van podcast series over het snijvlak tussen Onderwijs, Techniek & Innovatie. Alle afleveringen zijn te vinden op alle bekende kanalen, zoals Spotify, Soundcloud, Google Podcasts en Apple Podcasts. Naast zijn werk bij Fontys publiceert Ronald de podcast serie 'De Toekomst van Onderwijs: Oplossingen voor een veranderende arbeidsmarkt'. Over dit genoemde onderwerp maakt Ronald niet alleen een podcast serie, maar ook een nieuwsbrief. In dat kader geeft hij ook regelmatig lezingen en treedt hij op als dagvoorzitter op beurzen & online conferenties. Ronald Scheer is afgestudeerd aan de faculteit der Toegepaste Onderwijskunde van de Universiteit Twente. De podcast series 'Wij zijn Fontys' en 'De Toekomst van Onderwijs' worden geproduceerd en gepubliceerd op persoonlijke titel.