The invitation in the Dutch and French language can be found after the invitation in the English language.
English invitation
On February 5, 2020, students from Semester 7 present their project results during the Fontys symposium 'Engineering & Technology in Practice'. This symposium is THE event where students can show what they have been working on in recent months. 50 groups of students are expected to show what they can and know.
Show case
Curious to find out about the projects and the students that will present their project? One of the projects is about electro stimulation of the skin.
Invitation Française
Le 5 février 2020, les étudiants du semestre 7 présentent leurs résultats de projet lors du symposium de Fontys intitulé "Engineering & Technology in Practice". Ce symposium est LA manifestation où les étudiants peuvent montrer sur quoi ils ont travaillé ces derniers mois. On s'attend à ce que 50 groupes d'étudiants montrent ce qu'ils peuvent et savent.
Vitrine
Curieux de connaître les projets et les étudiants qui présenteront leur projet? L'un des projets concerne l'électrostimulation de la peau.
Uitnodiging
Op 5 februari 2020 presenteren studenten van Semester 7 hun projectresultaten tijdens het Fontys symposium 'Engineering & Technology in Practice'. Dit symposium is HET evenement waarop studenten kunnen laten zien waaraan zij de afgelopen maanden hebben gewerkt. Naar verwachting zullen 50 groepen studenten laten zien wat ze kunnen en kennen.
Voorbeeld project
Benieuwd naar de projecten en de studenten die hun project presenteren? Een van de projecten gaat over elektro stimulatie van de huid.


Vind ik leuk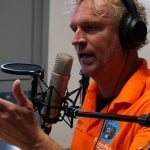 Ronald Scheer is an educator based at Fontys University of Applied Sciences in Eindhoven. Ronald is deeply engaged in the field of Engineering and is associated with the Robotics & Mechatronics professorship. In addition to his teaching role, he wears the hat of a skilled video and podcast creator within the professorship. Beyond the classroom, Ronald extends his expertise to assist fellow educators in crafting engaging learning materials for both online and classroom activities. His passion lies in enhancing the educational experience through multimedia content creation and innovative teaching methodologies.