Within Fontys we have many students from abroad. The international students choose Fontys because of our ambitious and innovative Bachelor- and Master programs.
International student in the spotlights
One of these students is Branigan Kerls from the USA. He started last week with his study Mechanical Engineering.
Project Flying start
Last week was also the start of a new educational project that was designed by Joris Glaser and Martin Stroetinga. The name of the project is 'Flying start' and students work a whole week at designing and building a hovercraft. During this project students not only learn new (technical) skills, but students also learn to find their way within (and around) Fontys Mechanical Engineering in Eindhoven. Last week I visited this project and I talked to our new student Branigan Kerls and lecturer Joris Glaser. During this conversation you can find out why Branigan is excited about the project.
Delta Project
Joris is also involved in another successful project: the Delta Project.  In July 2019 the students from this Delta project traveled to China with Joris Glaser and his Fontys lecturer Pablo Negrete Rubio from Mechatronics in Eindhoven. In Shanghai they received a prestigious award. Curious to find out about the projects 'Flying start' and 'Delta project'? Click on the link below to listen to my conversation with Joris and Branigan.


Vind ik leuk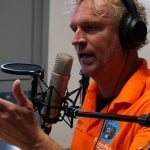 Ronald is parttime werkzaam als docent bij Fontys hogeschool voor Engineering in Eindhoven. Binnen Engineering is hij verbonden aan het lectoraat voor Robotica & Mechatronica. Vanuit het lectoraat is hij betrokken bij de minor Adaptive Robotics. Tevens is coach van het succesvolle studenten team 'Robohub Eindhoven'. Ronald is bovendien coach van studententeam 'Team Rembrandts 4481'. Dit team werd in 2019 wereldkampioen in de wereldwijde First Robotics Competitie. Bovendien is Ronald gespreksleider van podcast series over het snijvlak tussen Onderwijs, Techniek & Innovatie. Alle afleveringen zijn te vinden op alle bekende kanalen, zoals Spotify, Soundcloud, Google Podcasts en Apple Podcasts. Naast zijn werk bij Fontys publiceert Ronald de podcast serie 'De Toekomst van Onderwijs: Oplossingen voor een veranderende arbeidsmarkt'. Over dit genoemde onderwerp maakt Ronald niet alleen een podcast serie, maar ook een nieuwsbrief. In dat kader geeft hij ook regelmatig lezingen en treedt hij op als dagvoorzitter op beurzen & online conferenties. Ronald Scheer is afgestudeerd aan de faculteit der Toegepaste Onderwijskunde van de Universiteit Twente. De podcast series 'Wij zijn Fontys' en 'De Toekomst van Onderwijs' worden geproduceerd en gepubliceerd op persoonlijke titel.