Inge Hoeks en Jennifer van Deursen werken allebei bij Fontys hogescholen in Eindhoven. In deze podcast staat Inge Hoeks centraal. Sinds 1 september 2019 is Inge Hoeks docente online marketing en communicatie. Hiervoor werkte zij bij de Greenhouse group in Eindhoven. In deze aflevering is Jennifer van Deursen mijn co-host. Jennifer is coordinator bij Fontys Commerciele Economie Leisure management in Eindhoven.
Inge Hoeks heeft veel ervaring als project manager, maar ze weet ook echt wel uit ervaring boeiend te vertellen over SEO, SEA, Adwords en websites maken met WordPress. En juist die praktijk ervaring maakt dat haar studenten erg tevreden zijn met Inge als docente.
Meer weten? Luister dan naar de podcast waarin Inge Hoeks centraal staat. Met veel dank aan mijn co-host: Jennifer van Deursen.


Vind ik leuk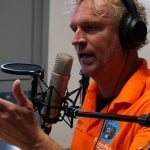 Ronald Scheer is an educator based at Fontys University of Applied Sciences in Eindhoven. Ronald is deeply engaged in the field of Engineering and is associated with the Robotics & Mechatronics professorship. In addition to his teaching role, he wears the hat of a skilled video and podcast creator within the professorship. Beyond the classroom, Ronald extends his expertise to assist fellow educators in crafting engaging learning materials for both online and classroom activities. His passion lies in enhancing the educational experience through multimedia content creation and innovative teaching methodologies.