In this video, fourth-year Mechatronics student, Moudar Al Abdullah, talks about his graduation project at Carbyon.
Credits for the video
Big thanks to Moudar Al Abdullah, Hans Krikhaar and the crew at Carbyon. Because of their cooperation, I was able to shoot and create this video.


Vind ik leuk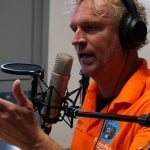 Ronald Scheer is an educator based at Fontys University of Applied Sciences in Eindhoven. Ronald is deeply engaged in the field of Engineering and is associated with the Robotics & Mechatronics professorship. In addition to his teaching role, he wears the hat of a skilled video and podcast creator within the professorship. Beyond the classroom, Ronald extends his expertise to assist fellow educators in crafting engaging learning materials for both online and classroom activities. His passion lies in enhancing the educational experience through multimedia content creation and innovative teaching methodologies.