Op 5 februari 2020 demonstreren studenten van Fontys Engineering en Fontys Toegepaste Natuurwetenschappen de projectresultaten van Semester 7. Dit symposium is HET evenement waarop studenten laten zien waaraan zij de afgelopen maanden hebben gewerkt. Elke groep zal zich voorafgaand aan het symposium voorstellen aan de hand van een foto, een video, een podcast en/of een project beschrijving. Hieronder een project beschrijving in de Nederlandse taal en daaronder in de Engelse taal.
FEMM-Line
Fontys Electro Mechanical Manufacturing-Line, kortweg FEMM-Line, is een Fontys intern project dat is gestart vanuit het onderwijs innovatie programma Connecting Trough Technology (CCT). Het doel van het FEMM-Line-project is het realiseren van een productielijn die volledig functionele Printed Circuit Boards (PCB's) kan assembleren. Een dergelijke productielijn zal uit ten minste 5 machines bestaan.
Pick and Place-machine
De machine waar deze studenten momenteel aan werken is een Pick and Place-machine. De machine is nodig om elektrische componenten op de printplaten te plaatsen. Een aantal andere groepen studenten hebben aan dit project gewerkt om de machine te maken. Dit semester stond een nieuwe projectgroep voor de uitdaging om de machine (opnieuw) aan de praat te krijgen. Dit betekent; de machine werkt, netjes en veilig.
Femm-line
Fontys Electro Mechanical Manufacturing-Line, short FEMM-Line, is a Fontys internal project which started from within the Connecting Trough Technology (CCT) program. The goal of the FEMM-Line project is to realise a manufacturing line which starts with bare wafers and ends with fully functional Printed Circuit Boards (PCB's). Such a manufacturing line will consist of at least 5 machines.
Pick and Place-machine
The machine that these students are currently working on is a Pick and Place Machine. The machine is needed to place electrical components on the PCB's. A number of previous groups have worked on this project to create the machine. This semester a new project group was faced with the challenge to get the machine up and running. This means; getting the machine working, neat and safe.
Team members Fontys Mechatronics
Roel Drenth
Thijs de Haas
Thijs de Jong
Tom van Hoek
Marjolein Daanen
Peter Theuws
Joshua Thaler
Ruben Lafarre
Fontys Tutor
Fontys coach


Vind ik leuk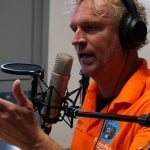 Ronald Scheer is an educator based at Fontys University of Applied Sciences in Eindhoven. Ronald is deeply engaged in the field of Engineering and is associated with the Robotics & Mechatronics professorship. In addition to his teaching role, he wears the hat of a skilled video and podcast creator within the professorship. Beyond the classroom, Ronald extends his expertise to assist fellow educators in crafting engaging learning materials for both online and classroom activities. His passion lies in enhancing the educational experience through multimedia content creation and innovative teaching methodologies.