Autonomous driving cars
The ATeam, a student team that works in close cooperation with Fontys research group 'Future power trains', is striving to create a fully autonomous vehicle, by adding sensors and software to a Toyota Prius. One of the many functions is being able to park autonomously. And that's where the assignment of this project starts.
Project start
At the start of the project the Toyota Prius already had a parallel parking controller. This controller worked by using the input from a single leddar sensor to determine a path which is then followed by the car.
Challenge
The challenge in this project was to design a new controller and improve on an older controller at the same time. According to the assignment these new controllers had to contribute to a smoother parking maneuver and a more reliable and more functional complete system.
Expectations 
Our expectations were that this project would be reasonably easy to start with, due to being able to use an already existing model. This turned out to be a lot harder than we initially thought it would be. The reason being that we had to work and improve upon models and other work delivered by people who weren't involved with the project anymore. It took us a lot of time before we finally understood the entire model, that controls the many functions the Prius has. After we put some time into understanding how everything was hooked up it was relatively easy to work with the model.
Results
The results of this project are the two working controllers, one for the parallel parking function and one for the 90 degrees parking function. Along with these two controllers we delivered a manual that is supposed to make it easier for other people to work with the models we improved and built.
Student team
Jorn Marschalk
Pim Kempen
Rick Gijzen
Glenn Visser
Tim van Tiel
Fontys Tutor
Fontys client
Fontys coach


Vind ik leuk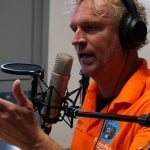 Ronald Scheer is an educator based at Fontys University of Applied Sciences in Eindhoven. Ronald is deeply engaged in the field of Engineering and is associated with the Robotics & Mechatronics professorship. In addition to his teaching role, he wears the hat of a skilled video and podcast creator within the professorship. Beyond the classroom, Ronald extends his expertise to assist fellow educators in crafting engaging learning materials for both online and classroom activities. His passion lies in enhancing the educational experience through multimedia content creation and innovative teaching methodologies.