Ever wondered what makes modern education truly dynamic? And effective? Could Blended Learning be the answer? But what exactly is it? Blended learning combines the best of both worlds – traditional face-to-face teaching and cutting-edge digital tools. But how do you take your first step?
An engaging learning experience
It's about crafting an engaging learning experience. It's not just a mix of physical and online classes; it's a tailored approach to education.
Revolutionize your learning journey
Ready to make changes to your lessons, lectures and classroom activities? So your students can learn faster? And more in the same time? For your inspiration I created the following video:


Vind ik leuk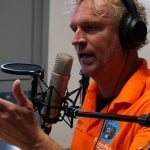 Ronald Scheer is an educator based at Fontys University of Applied Sciences in Eindhoven. Ronald is deeply engaged in the field of Engineering and is associated with the Robotics & Mechatronics professorship. In addition to his teaching role, he wears the hat of a skilled video and podcast creator within the professorship. Beyond the classroom, Ronald extends his expertise to assist fellow educators in crafting engaging learning materials for both online and classroom activities. His passion lies in enhancing the educational experience through multimedia content creation and innovative teaching methodologies.