During the build season of Team Rembrandts, we received our new swerve modules from our sponsor REV Robotics! After a lot of testing and 2 competitions, we have a few findings we would love to share with you! For example, which wheels we liked the most and the amazing reliability we experienced with them.
Two student of Fontys Mechatronics in Eindhoven:
GIjs Weemaes
Mathijs Betsch
share their thoughts in this video:


Vind ik leuk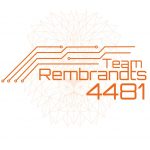 Rembrandts STEAM Foundation is a Dutch Non-Profit organization that started as the First native Dutch robotics team, also known as Team Rembrandts. Team Rembrandts, team 4481, is a robotics team located in Eindhoven with students from Fontys University of Applied Science, Zwijsen College and Heerbeeck College. HBO, WO, MBO and High school combined all together.