On July 6th, 7th and 8th 2022, the 'Engineering and Technology in Practice' event will be held, where students from Fontys Engineering and Fontys Applied Natural Sciences will demonstrate the following projects:
Multiple locations

Most projects can be seen in the Nexus building, located at TU Eindhoven campus (next to the central train station in Eindhoven).
The Fontys Automotive project NovaFast is located at the Automotive campus in Helmond.
The Mechatronics project FLUFFY can be seen at Brainport Industry Campus (BIC), located next to Airport Eindhoven.
My Mechatronics students
Every year I am a tutor for the students in the minor Adaptive Robotics. the projects within this minor are part of the Engineering in Practice event. Over the past 6 month my students have been working on the FLUFFY system (flexible automated factory of the future). Currently this system can assemble a Lego Formula1 car.
Fontys Centre of Expertise HTSM
The Fontys Centre of Expertise HTSM is responsible for organizing this event for many years already.
Award ceremony
Fontys Engineering will reward the best project with the E&TiP-award!
Come and visit the presentations
Would you like to admire the project results in person? Then come to the exhibition on July 6-7-8, 2022.
More information about this event on this page.


Vind ik leuk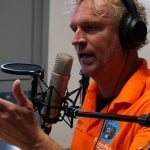 Ronald is parttime werkzaam als docent bij Fontys hogeschool voor Engineering in Eindhoven. Binnen Engineering is hij verbonden aan het lectoraat voor Robotica & Mechatronica. Vanuit het lectoraat is hij betrokken bij de minor Adaptive Robotics. Tevens is coach van het succesvolle studenten team 'Robohub Eindhoven'. Ronald is bovendien coach van studententeam 'Team Rembrandts 4481'. Dit team werd in 2019 wereldkampioen in de wereldwijde First Robotics Competitie. Bovendien is Ronald gespreksleider van podcast series over het snijvlak tussen Onderwijs, Techniek & Innovatie. Alle afleveringen zijn te vinden op alle bekende kanalen, zoals Spotify, Soundcloud, Google Podcasts en Apple Podcasts. Naast zijn werk bij Fontys publiceert Ronald de podcast serie 'De Toekomst van Onderwijs: Oplossingen voor een veranderende arbeidsmarkt'. Over dit genoemde onderwerp maakt Ronald niet alleen een podcast serie, maar ook een nieuwsbrief. In dat kader geeft hij ook regelmatig lezingen en treedt hij op als dagvoorzitter op beurzen & online conferenties. Ronald Scheer is afgestudeerd aan de faculteit der Toegepaste Onderwijskunde van de Universiteit Twente. De podcast series 'Wij zijn Fontys' en 'De Toekomst van Onderwijs' worden geproduceerd en gepubliceerd op persoonlijke titel.