On July 6th, 7th and 8th 2022, the 'Engineering and Technology in Practice' event will be held, where students from Fontys Engineering and Fontys Applied Natural Sciences will demonstrate the following projects:
Multiple locations

Most projects can be seen in the Nexus building, located at TU Eindhoven campus (next to the central train station in Eindhoven).
The Fontys Automotive project NovaFast is located at the Automotive campus in Helmond.
The Mechatronics project FLUFFY can be seen at Brainport Industry Campus (BIC), located next to Airport Eindhoven.
My Mechatronics students
Every year I am a tutor for the students in the minor Adaptive Robotics. the projects within this minor are part of the Engineering in Practice event. Over the past 6 month my students have been working on the FLUFFY system (flexible automated factory of the future). Currently this system can assemble a Lego Formula1 car.
Fontys Centre of Expertise HTSM
The Fontys Centre of Expertise HTSM is responsible for organizing this event for many years already.
Award ceremony
Fontys Engineering will reward the best project with the E&TiP-award!
Come and visit the presentations
Would you like to admire the project results in person? Then come to the exhibition on July 6-7-8, 2022.
More information about this event on this page.


Vind ik leuk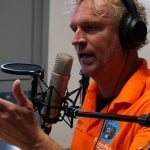 Ronald Scheer is an educator based at Fontys University of Applied Sciences in Eindhoven. Ronald is deeply engaged in the field of Engineering and is associated with the Robotics & Mechatronics professorship. In addition to his teaching role, he wears the hat of a skilled video and podcast creator within the professorship. Beyond the classroom, Ronald extends his expertise to assist fellow educators in crafting engaging learning materials for both online and classroom activities. His passion lies in enhancing the educational experience through multimedia content creation and innovative teaching methodologies.