Within Fontys University of Applied Sciences there are three student teams who participate within the global robotics community FIRST: For Inspiration and Recognition of Science and Technology. The three Dutch student teams are:
Team Pi 6968
Force Fusion 6920
Team Rembrandts 4481
All students within these teams like to share their technical knowledge and expertise about robots. And they also like to share their knowledge about non-technical issues that you need to understand when running a student team, such as:
'Working in multidisciplinary teams',
'Video Production and Editing'
'Community Outreach'
'Strategies for Financial Sustainability'
'Operating a Team on a Budget'
'How to find Sponsors'
'How to teach tech topics to non-tech students',
'How to learn a new computer language'
'How to learn a human language from another country',
and much more
Would you like to learn from us? We would like to learn from you too!
Join us on June 27 starting at 12 pm (CEST) for a 24 hour conference on all things STEM! As we follow the sun, we'll have presentations from around the world. Presentations and workshops will be run by award winning FIRST Teams, industry leading experts, and LEGO Education teacher professional development. Be sure to keep an eye on social media throughout the event as we release a series of challenges!
About the event
As with the entire FIRST community, we were deeply disappointed by the postponement of the season. However, just because the competitions are taking a break doesn't mean that the learning and fun have to stop. The purpose of this event is to give FIRST members and beyond an outlet for their motivation to robotics and STEM.
This event was proposed by FRC Team 3132 The Thunder Down Under in Australia and is co-run with following FRC teams:
4253 Raid Zero,
503 Frog Force,
1073 the Force Team, and
971 Spartan Robotics.
A truly global event
There will be presenters from all over the world ready to share their knowledge with us. Join us for 24 hours straight of STEM fun. Presentations are on a variety of topics including all five FIRST programs, LEGO robotics, virtual coding, and more! Please tune in any time during the day of the event and be ready to celebrate all things FIRST robotics and STEM!
Would you like to participate in one of our Dutch teams?
Please contact Ronald Scheer, team coach of team 4481 and lecturer at Fontys Engineering, Mechatronics department, Eindhoven, The Netherlands.
More information on https://lnkd.in/eWZbQAt!


Vind ik leuk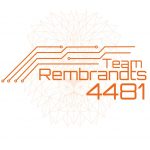 Rembrandts STEAM Foundation is a Dutch Non-Profit organization that started as the First native Dutch robotics team, also known as Team Rembrandts. Team Rembrandts, team 4481, is a robotics team located in Eindhoven with students from Fontys University of Applied Science, Zwijsen College and Heerbeeck College. HBO, WO, MBO and High school combined all together.